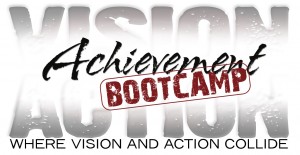 #1 Bestseller!

7 RULES of
Achievement
by Tom Terwilliger

A portion of sales
benefit
Habitat for Humanity

 

– Pass It On! –
Tell Your Friends About 7 RULES




THANK YOU

…and congratulations on making this far. Most people want to change the quality of their life but take no action or never fully commit to doing so. You have taken the first step – and I want to recognize you for that.

I also want you to start getting really excited about what will be an extremely empowering, motivating and truly life altering weekend for you… one you will never forget. I look forward to serving you and giving you 100% at our next Achievement Bootcamp.

Please share this experience with another friend or loved one by filling in the information below now –with your permission we'll do the rest. Growth is a drink best shared and you can help change the quality of someone else's life.

Thank you so much – Tom Terwilliger




Congratulations!

Your registration for the October 2-3, 2010 Achievement Bootcamp has been confirmed.

Here is the information you will need to assure that you have a spectacular and life changing experience.

Event Location and Dates

Location:

Wingate Hotel Greenwood Village/Denver, Colorado

Event Information:

Friday October 1st – 6pm -8pm pre-event registration and package pickup will take place at the event host hotel lobby


Saturday October 2nd – 7:30am – 8:45am morning registration and package pick up hotel lobby. Doors open 8:45am

Sunday October 3rd – Doors open 8:45am

Hotel Information:

Host Hotel: Wingate Hotel phone: 303-221-0383
Special room rates of only $65 regular and $95 for a kitchen suite per night have been arranged under Achievement Bootcamp. Because it is a two day event we recommend that if you are 30 minutes of further away from the hotel you book a room and spend the night or both nights.

There are several great and inexpensive restaurants within very short walking distance.

Coffee and tea will be provided.

We recommend that you bring a bottle for water and several snacks so that you maintain your energy throughout the event.

Airport Information:

The event hotel is easily accessible from both the Denver International Airport (DIA) -20 minute drive or shuttle and the Colorado Springs Airport 40-60 min drive.

General Information:

Dress is casual and relaxed.

The event will wrap up on each day between 5 and 6 pm.

Plan to spend the entire day on both Sat and Sun – this is a two day event and to maximize you experience you will want to be there both days.

Please do not bring children under age 16 to the event room. They can of course stay at the hotel and enjoy the pool and some nearby recreation.

Bring note paper and pen.

Please feel free to take photos and video and share them with your Facebook, Twitter, and Linked-In friends.




Contact information:

Between now and then I would encourage you to take advantage of the special Early Bird VIP or Front and Center tuition programs. They can make the difference between a truly great and life changing experience and an extraordinary and transformational one. They are only a few spots left and will go fast. Come As A VIP! If you decide you cannot attend for any reason you can cancel within 14 days for a full refund or within 7 day for half refund. Or keep your reservation as a VIP for the next event

Either way I look forward to seeing you in October and helping you achieve at the level of your limitless potential between now and then.

"Your Next Great Achievement May Only Be One RULE Away"

TELL A FRIEND ABOUT
7 RULES OF ACHIEVEMENT!

Just fill out the form below and we'll tell your friends about
Tom Terwilliger's book. Don't worry, their names will NOT
be added to any lists! You can see the message we will
send them below.

Here's what the email to your friends will say:

NOTE: We HATE spam and respect you and your friend's
privacy. We will never sell or share your information.
7 RULES of Achievement is a registered trademark owned by author.
© 2010 LoDO Media, LLC. All Rights Reserved